San Francisco State University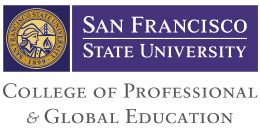 To register for undergraduate credits, please click here or contact the College of Professional & Global Education at 415.405.7700. Phone hours are Monday - Friday: 9:00am - 5:00pm PST.
VESi recommends that you check with your school district and/or state licensing agency to verify these course offerings will meet your district and/or state requirements for salary advancement and/or state certificate re-licensure.
---

Advanced Classroom Management: Children as Change Agents
Semester Credits: 2 Fee: $370
---

Autism Spectrum Disorder: Information & Effective Intervention Strategies
Semester Credits: 2 Fee: $370
---

Behavior is Language: Strategies for Managing Disruptive Behavior
Semester Credits: 3 Fee: $545
---

Child Abuse: Working with Abused & Neglected Children
Semester Credits: 2 Fee: $370
---

Drugs & Alcohol in Schools: Understanding Substance Use & Abuse
Semester Credits: 2 Fee: $370
---

Harassment, Bullying & Cyber-Intimidation in Schools
Semester Credits: 2 Fee: $370
---

Inclusion: Working with Students with Special Needs in General Education Classrooms
Semester Credits: 2 Fee: $370
---

Learning Disabilities: Practical Information for the Classroom Teacher
Semester Credits: 3 Fee: $545
---

Talented & Gifted: Working with High Achievers
Semester Credits: 2 Fee: $370
---

Teaching Diversity: Influences & Issues in the Classroom
Semester Credits: 2 Fee: $370
---

Traumatized Child: The Effects of Stress, Trauma & Violence on Student Learning
Semester Credits: 2 Fee: $370
---

Understanding Aggression: Coping with Aggressive Behavior in the Classroom
Semester Credits: 3 Fee: $545
---

Violence in Schools: Identification, Prevention & Intervention Strategies
Semester Credits: 2 Fee: $370
---

23403 E Mission Avenue
Suite 220F
Liberty Lake, WA 99019
Telephone: (800) 313-6744
Fax: (509) 926-7768
About VESi
Teacher Resources