Educational Service District 123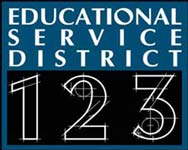 Educational Service District 123
3924 W Court Street
Pasco, WA 99301
Telephone: (509) 547-8441
Toll-Free: (888) 547-8441

To register for clock hours through ESD123 please follow the directions below.



Step 1: Contact Gloria Cartagena at ESD123 at 509-544-5702 to pay the clock hour fee.
Step 2: Pay $140 courseware fee below or call VESi at 1-800-313-6744 between 8:00AM-5:00PM PST, Monday through Friday.
Step 3: Turn all course materials into VESi upon completion.
Step 4: ESD123 will send your clock hour form once they receive completion confirmation from VESi.
*VESi will charge just the $140 courseware fee per course. If you haven't paid your clock hour fee, you must follow step 1 above. Your course materials will not be emailed to you until VESi has received confirmation from ESD 123 that the clock hour fee has been paid.
Check out our new course Response to Intervention!
Every teacher will have students who are struggling and whether it's short term or long term, RTI is a valuable tool. See the course list below for more information.
| | | |
| --- | --- | --- |
| | | VESi recommends that you check with your school district and/or state licensing agency to verify these course offerings will meet your district and/or state requirements for salary advancement and/or state certificate re-licensure. |
Course List
---