Educational Service District 123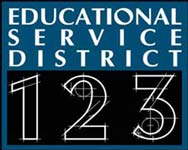 Educational Service District 123
3924 W Court Street
Pasco, WA 99301
Telephone: (509) 547-8441
Toll-Free: (888) 547-8441

To register for clock hours through ESD123 please follow the directions below.



Step 1: Before you begin the course, Click HERE to also register for your clock hours through ESD 123 and create an account if you do not already have one with ESD 123. If you have not created an account before, you must click on the "activate account" box located in the upper right corner of the screen, beneath the log-in and clock hours options. If you have already created an account, please click on "log-in" located in the upper right corner of the screen.

After you log in or create your account, type VESi into the search bar to display the list of VESi courses and register for each one you will be taking.

Step 2: Pay $140 courseware fee below or call VESi at 1-800-313-6744 between 8:00AM-5:00PM PST, Monday through Friday.
Step 3: Turn all course materials into VESi upon completion.
Step 4: Please allow approximately two weeks for VESi to process your materials and to notify ESD 123 of your clock hour completion. You will receive an email from esd123@mail.pdenroller.org with a link to submit the evaluation and pay your clock hour fee. After you submit the evaluation, you will be able to purchase your clock hours online using either a credit or debit card. If you miss the email, you may also sign into your pdEnroller account, and on the upper right menu, select "My Clock Hours" and follow the steps below.

Fill out and submit the evaluation.
The payment link will show.
Click on this to purchase your clock hours online.
Once you have completed purchasing clock hours, the clock hour form will appear. You can also return to it by clicking on the name of the course on your "My Clock Hours" page. This is your official form, which has verbiage from OSPI, and is also your payment voucher showing you purchased your clock hours.
Contact Jessica Howard at 509-544-5750 or Troy Tornow at 509-544-5741 at ESD123 with any questions.
*VESi will charge just the $140 courseware fee per course. If you haven't paid your clock hour fee, you must follow step 1 above. Your course materials will not be emailed to you until VESi has received confirmation from ESD 123 that the clock hour fee has been paid.

| | | |
| --- | --- | --- |
| | | We recommend that you check with your school district and/or state licensing agency to verify that these course offerings will meet your district and/or state requirements for salary advancement and/or state certificate re-licensure. |
Course List
---