Educational Service District 123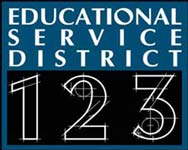 Educational Service District 123
3924 W Court Street
Pasco, WA 99301
Telephone: (509) 547-8441
Toll-Free: (888) 547-8441

To register for clock hours through ESD123 please follow the directions below.



Step 1: Click HERE to pay the clock hour fee.
Step 2: Pay $140 courseware fee below or call VESi at 1-800-313-6744 between 8:00AM-5:00PM PST, Monday through Friday.
Step 3: Turn all course materials into VESi upon completion.
Step 4: ESD123 will send your clock hour form once they receive completion confirmation from VESi.
Contact Jessica Howard at 509-544-5750 or Troy Tornow at 509-544-5741 at ESD123 with any questions.
*VESi will charge just the $140 courseware fee per course. If you haven't paid your clock hour fee, you must follow step 1 above. Your course materials will not be emailed to you until VESi has received confirmation from ESD 123 that the clock hour fee has been paid.

| | | |
| --- | --- | --- |
| | | VESi recommends that you check with your school district and/or state licensing agency to verify that these course offerings will meet your district and/or state requirements for salary advancement and/or state certificate re-licensure. |
Course List
---